Traverser for SEMAF Railway Factory (Egypt)
03.02.2020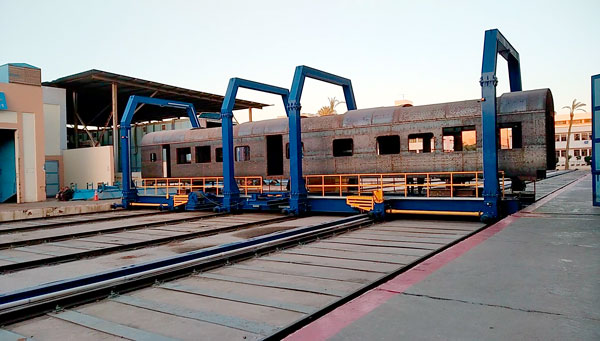 Research and Production Enterprise Techvagonmash manufactured a traverser for moving railway vehicles for SEMAF Railway Factory (Egypt).
SEMAF Railway Factory was founded in 1955 and currently manufactures passenger cars, metro cars, trams, freight cars and traction rolling stock. The main market is the domestic market of Egypt, as well as other regions of Africa.
The need to purchase a traverser appeared due to the wear of the existing traverser and the company's need for more efficient up-to-date equipment.
The contract for the supply of equipment was signed in March 2019. Under the contract, RPE Techvagonmash LLC developed technical documentation, manufactured traversers, and also provided installation and training services for the customer's personnel.
It is worth saying that the new traverser is equipped with lighting for working at night; to ensure safe operation, the traverser is equipped with sound and light alarms. To prevent collision with foreign objects, the traverser is equipped with laser scanners. The laser scanners monitor the space in front of the traverser while it is on the move. The operator's cabin is equipped with air conditioning for comfortable work in the hot season. A control panel is installed in the cabin, as well as the monitors of the video surveillance system to control the movement of the traverser.