Laser sensor for joint tracking when performing robotic arc welding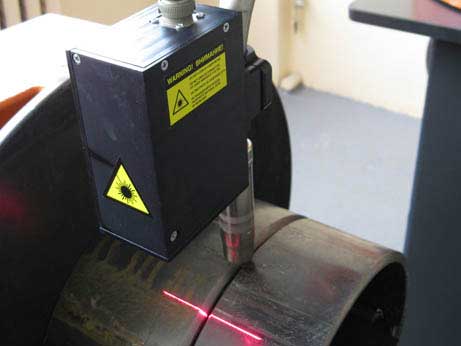 Laser sensor is designed for automatic error compensation of blanks assembly for welding by means of contact-free tracking of a joint center in the process of robotic arc welding. The basic configuration sensor is able to recognize open square butt groove, V-groove and overlap joints. It is possible to add recognizable joint types to the list if required by the Customer. The additional device is equipped with TV-out designed for video surveillance over the tracking object. The sensor is installed on the last link of a welding robot and is integrated in its control system.
Operation principle
Laser sensor comprises three main elements: digital video camera, linear laser emitter and microprocessor controller. Sensor operation principle is based on laser triangulation method. The laser emitter projects a narrow strip of laser emission which forms a light track on the object following the relief of its surface. The video camera, installed under a certain triangulation angle to the laser emitter, registers images of a light track and sends them for further processing to microprocessor-based controller. As a result of video processing the butt-joint geometrical parameters and relative position of its center in lateral and vertical directions are detected. The received data are transmitted to welding robot control system and used for automatic correction of welding robot path and/or welding process parameters. The external interfaces are RS-422/485, Ethernet, discrete, analog I/O, or other at the customer's request.
Specifications:
| | | |
| --- | --- | --- |
| 1. | Joint 2-dimensional coordinates measurement precision, mm | ± 0,2 |
| 2. | Maximum working area in transversal direction, mm | ± 30 |
| 3. | Maximum working area in vertical direction, mm | ± 40 |
| 4. | Nominal distance from sensor to the object, mm | 80 |
| 5. | Minimum allowable preparation depth, mm | 2 |
| 6. | Minimum allowable joint gap size, mm | 0,5 |
| 7. | Data updating frequency, Hz | 50 |
| 8. | Communication line maximum length (RS-422/485, Ethernet), m | 50 |
| 9. | Sensor video output signal standard | PAL |
| 10. | Power supply | +24 В |
| 11. | Power consumption, W , not more than | 4 |
| 12. | Galvanic insulation breakdown voltage, kW, not less than | 1,5 |
| 13. | IP Protection class | IP64 |
| 14. | Operating temperature range, °С | -10..+55 |