Axle-box housing waching plant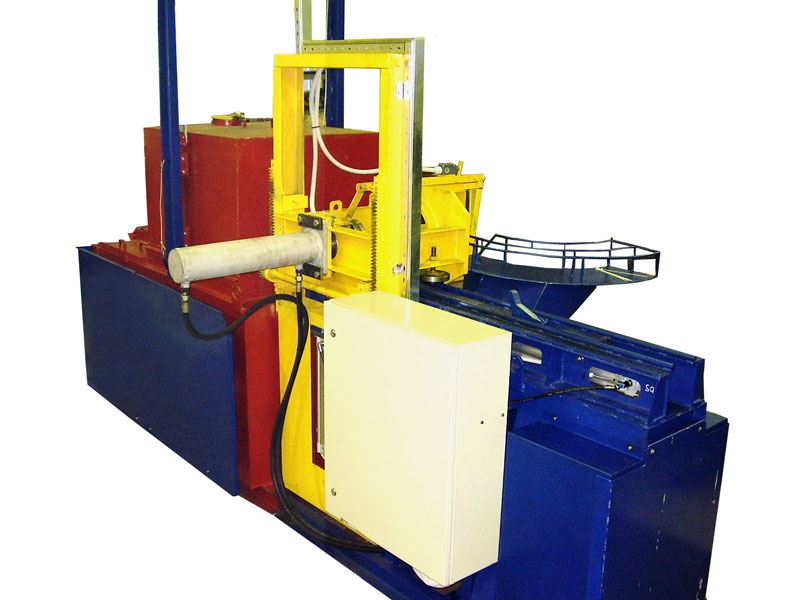 An axle-box body washing plant is designed for bearing extrusion and washing of axle-box housings for freight cars by means of washing solution and is used in railway repair shops (locomotive depots and railway-carriage repair works) to change out-of-date and expired-service-life technical facilities) as well as to improve existing manufacturing methods where, as a rule, a great deal of hand labor is used.
The machine consists of:
- devices for pressing out bearings;
- a tank;
- a washing and drying chamber;
- a control panel.
The tank is additionally equipped with a skimmer - a disk apparatus, which allows you to remove the layer of waste lubricant which formed on the surface of the washing solution and discharge it to a separate container.
Operation principle
The machine for washing and drying axle-boxes works as follows: in the initial position, dirty axle-boxes stop at the inlet ramp, which, if there is an axle-box on it, controls a limit switch, upon the signal of which a rod conveyor is switched on. It transfers the axle-box to the washing chamber. After the operator's command (or a signal from the plant control system) to turn on the device, an automatic operation cycle starts. The supply system for the washing solution in the washing chamber is turned on. The duration of the washing solution supply to the washing chamber is set by the operator before starting the operation of the equipment complex. After the washing process is completed, clean water is supplied to the axle-box body for washing. After the washing process is completed, the rod conveyor moves the clean axle-box body to the outlet ramp, and the dirty axle-box, newly fed to the receiving ramp, into the washing chamber.
Advantages
Timer (enabling / disabling tubular electric heaters according to a set program);
Liquid level sensors with output to the operator's control panel;
Automatic water refill;
Automatic oil drain tank ;
Automatic maintenance of the set fluid temperature.
Specifications:
| | | |
| --- | --- | --- |
| No. | Index | Value |
| 1. | Plant capacity (clean bodies), pcs/h | 15-30 |
| 2. | Washing time, min | 2-4 |
| 3. | Washing solution temperature, °С | 35 -95 |
| 4. | Pressing out unit | |
| | Extrusion force, kg | 5000 |
| | Pressure, MPa (kgf/cm²) | 6.3 (63) |
| | Pump motor power, kW | 1.5 |
| 5. | Washing solution pump | |
| | Pump pressure, MPa (kgf/cm²) | 0,32 (3,2) |
| | Pump capacity, m³/h | 25 |
| | Washing solution weight in the tank, kg | 1150 |
| 6. | Washing solution heating | water vapour, with electrical heaters |
| 7. | Water vapour pressure, MPa (kgf/cm²) | 0,3 (3,0) |
| 8. | Dry water vapour consumption, kg/h | Up to 35 |
| 9. | Power of electrical heating, kW | 31,5 |
| 10. | Overall dimensions, mm | 3600х1780х2680 |
| 11. | Plant weight without washing solution, kg | 1800 |