Drilling and riveting stand for gondolar car underframe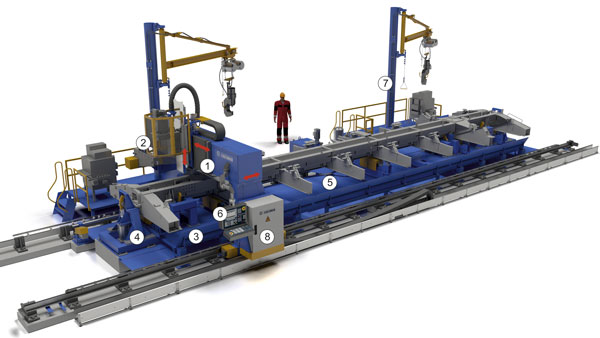 1. Drilling portal
2. Drilling head
3. Clamping table
4. Clamps and rammers
5. Chip removing conveyor
6. Control panel
7. Equipment for riveting
8. Electrical equipment
Suhner drilling head (Switzerland) with increased rigidity and power provides high productivity of details processing. The motor cooling is forced by the air fan, working independently from equipment operating mode.
Drilling portal is equipped with one drilling head, tool exchange magazine, mobile control panel, probe for precise positioning towards the processed detail, pneumatic system. The portal motion is provided by high-precision servo motors.
Clamping table is a structural element of the whole stand with guiding rails for drilling portal motion and two supports for the processed detail locating. The rammers are fixed on the supports and provide the rigid locating of the detail along the side surfaces and additional fixation during drilling. The rammers and the clamps are actuated by pneumatic cylinders. The air-preparation unit is used for setting and control of necessary air pressure.
Control system of the drilling portal is based on the SINUMERIK 802D control system.