Multipurpose stand for assembly and welding of passenger car underframes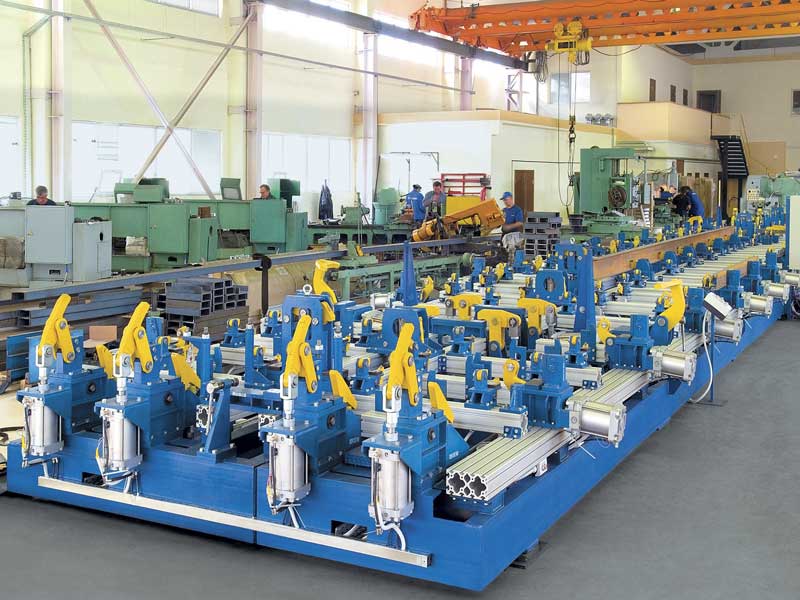 This stand was designed for assembly of railway car underframes of passenger car.
The jig is a framework where guides with T-type slots as well locators and clamping elements are fixed. While readjusting of the line for some frame dimension-type locators and clamping elements move along the T-slots. Constituents of a piece are clamped by pneumatic actuators. The use of a pneumatic system ensures a even clamping of all the constituents.
Specifications:
№

Index

Value

1.

Railway car underframe dimensions to be assembled, mm

Length, mm

24420

Width, mm

3100

2.

Line type

Adjustable

3.

Number of dimension-types of line

4

4.

Drives on line

Pneumatic

5.

Manufacturer of pneumatic equipment

FESTO

6.

Principal of line readjustment

Manuel

7.

Principal of line control

Manuel, with buttons

8.

Compressed air consumption per underframe, m³

0,6

9.

Compressed air pressure, MPa.

0,4 … 0,6

10.

Power consumption, Kw

0,4

11.

Dimensions of the line, mm

Length, mm

25280

Width, mm

4110

Height, mm

1320