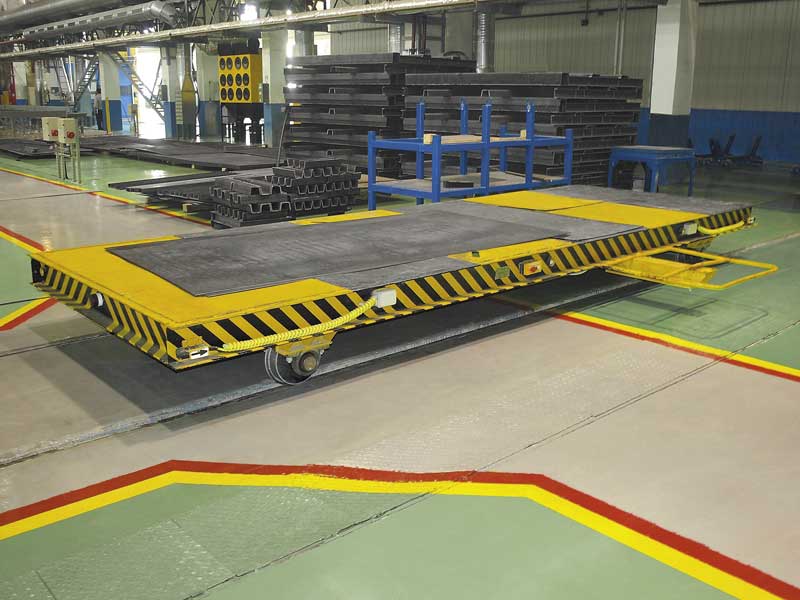 The trolley is intended for in-shop handling of loads along linear horizontal sections of rail tracks.
· The transfer trolley is fed from the trolley wire (IP 44), located on the floor or on the columns.
· The trolley is controlled through frequency converter, which allows long-term speed variation.
· The trolley has smooth start and stop mode, which is very important for heavy loads transportation.
· The trolley control can be provided from portable control panel (installed on the trolley) as well as from remote control panel (optionally).
· The warning sound and light signaling is on during trolley motion.
· As an option the trolley can be equipped with tracking system for travel blocking in case of foreign objects within travel area.
Specifications:
Specifications

Trolley model

ТТ-5

ТТ-10

TT-20

TT-40

TT-50

Load capacity, t

5

10

20

30

50

Travel speed, m/s

0,52

0,52

0,47

0,47

0,42

Track, mm

1524

1524

1524

1524

1524

Platform size, mm

length

3500

4500

4500

4500

5000

width

2100

2100

2100

2300

2500

Platform height over the rail head, mm

800

800

850

820

1000

Electric motor power, kW

1,7

1,7

3

6

6

Weight, kg

2700

3100

3800

5500

9900