Assembly and welding stand for gondola car body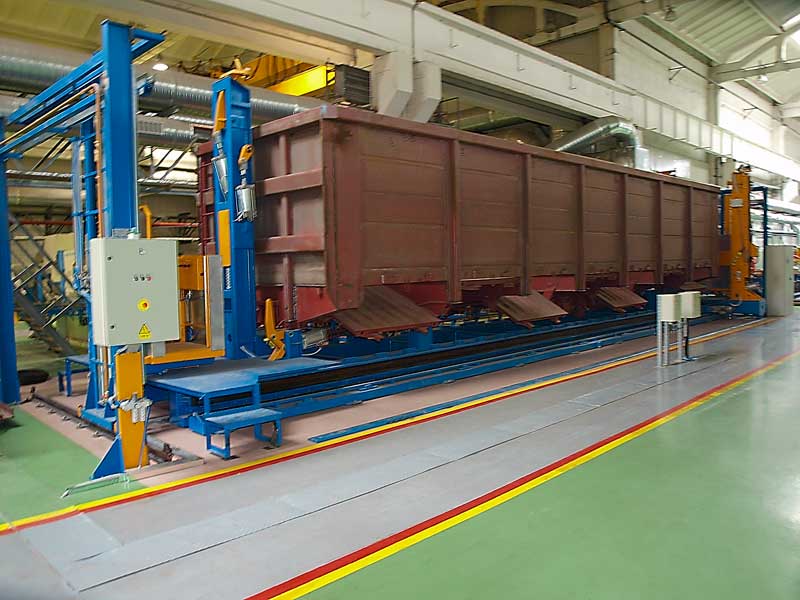 This stand provides the set of productio operations on gondola car body assembly.
The componenets of the body are installed to the stand according to production process and tacked to each other. Than all "bottom" position seams are welded. The ready unit is unloaded from the stand and transferred to the next working place.
Video
Specifications:
1.

Overall dimensions of the product:

13100х3125х2572

Weight, kg

13380

2.

Load capacity of the stand, kg

20000

3.

Clamping parts drive

Pneumatic

4.

Side column:

number of columns, pcs.

2

vertical travel of lateral clamp, mm

2700

columnt travel speed, m/min

10

drive

electromechanical

power, kW

2,2

5.

Automated carriage:

basket moving-out, mm

1160

basket vertical travel, mm

2000

max. workload, kg

150

horizontal travel mechanism

pneumatic

vertical travel mechanism

пневматический

6.

Installed capacity, kW

4,76

7.

Overall dimensions, mm

18820х4770х4096

8.

Weight, kg

17110