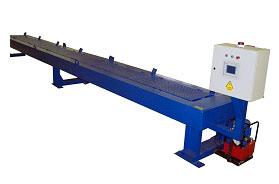 The stand is designed for tension testing of the freight car brake rigging rods. The stand is readjusted for different rod dimension types by means of various adapters application and rack travel.
Stand control system allows to make records of the following parameters in the electronic test log in automatic mode:
1. Quality inspector stamp number;
2. Number of the item under test;
3. Date and time of the test;
4. Test force;
5. Deformation parameters.
Stand control system (by means of a display panel) can inform an operator about emerging faults - open cover, current and thermal protection operation, invalid deformation of the rods under test.
Operation principle: Brake rigging rods are put inside the stand by means of handling equipment according to the layout diagrams, and they are connected with each other by means of adapters and pins. After that the grid covers of the stand are closed for safety purposes. Then a command for initial strain of the obtained assembly is given to eliminate the gaps in the joints. Strain sensor and range-finding sensor readings are zeroed in this position. After that a rod tension test is performed by means of the operating force equal to 6 tons. Then a strain force drops to the initial one, and a residual deformation of a rod set is measured withthe help of the range-finding sensor. Then the force drops to a zero mark, which allows to release swivel pins and adapters, disassemble rods, which are taken off the stand with the crane after the test and transfered to the next working place.
Specifications:
No

Index

Units

Value

1.

Name and designation of the items to be assembled




rods

2.

Length of the rods under test

mm

845…7000

3.

Number of rod dimension types




8

4.

Drive type




hydraulic

5.

Executive device




jack ДО10Г150

Load capacity

kg

10000

Rod working stroke

mm

150

6.

Tension measuring element




Strain gauge ST-10000

Load capacity

kg

10000

Measurement accuracy

kg

±1,7

7.

Residual deformation measuring element




Range-finding sensor DT20Hi

measurement range

mm

100...600

measurement accuracy

mm

±2

8.

Hydraulic unit type




НЭЭ-0,2И4Т1

Drive power

kW

0,55

Hydraulic reservoir capacity

l

10

Rated consumption

l/min

0,5

9.

Stand type




readjusted*

10.

Stand control principle




manual, by means of buttons

11.

Overall dimensions of hte stand

mm

9800х1000х930

12.

Weight

kg

2100