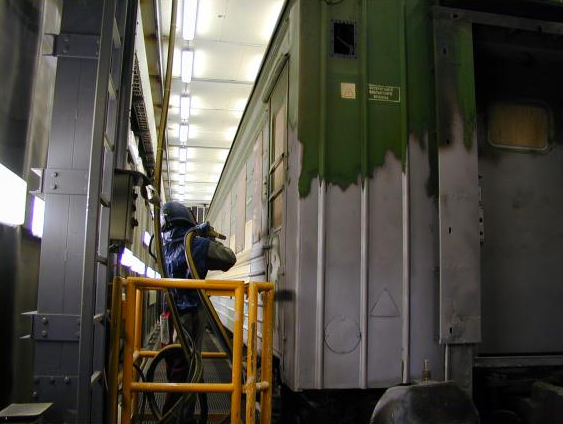 The blast rooms is designed for shot blasting of wagons up to the 2nd degree of cleaning according to Sa 2 ½ ISO 8501-1:2015.
The operator is equipped with a complete protective clothing and a breather. Depending on the year seasons the breather has 2 modes of air supply: with heating and cooling. To do the cleaning of metalworks convenient in the height there are galleries which can be placed to the necessary positions inside the chamber. The chamber is equipped with lighting and venting systems.




1. Working chamber
2. Shot circulation system
3. Shot blasting machine
4. Lighting
5. Air cleaning system
6. Elevating access platforms
Description of equipment operation

The work is done as follows:: the wagon is pulled into the chamber by a winch. The doors are closed, two operators clean the wagon outer surface by shot blasting. Used shots fall through the grid floor in the area with a pusher-bar conveyor which colletct shots in the chamber center in the area of cross conveyors. The shots come into standard cleaning system and into the shot blasters.



Optional equipment


Specifications:
Index

Type

KD-5

KD-8

1.

Dimensions of the chamber (inside), mm

18060x5500x6000

28800x5500x7500

2.

Dimensions of the chamber (outside), mm

18200x9100x6655

29000x9500x7500

3.

Pit depth for the elevator, mm

1500

1500

4.

Productivity of two operators (9.5 nozzle), m²/h

42

42

5.

Compressed air consumption with 9.5 mm nozzles and 0.8 MPa pressure, m³/min

12

12

6.

Amount of operators

2

2

7.

Adjusted power, kW

26

30

8.

Air suction volume, m³/h

14000

28000

9.

Weight of the chamber, Tonnes

42

7


Photo
Railcar blast rooms

Railcar blast rooms

Elevating access platforms

Air cleaning system

Protective suit for the operator

Video monitoring

Sheet metal storages system (two columns type)