Elevated access platforms with mobile lifts
Elevated access platform has been designed for operators travel and lifting at height while performing installation works, filling painting and grinding of railway car bodies ensuring safe and comfortable operation conditions.
Elevated access platforms can be applied for items of various lengths. For front sides processing we can offer elevated access platforms with mobile lifts.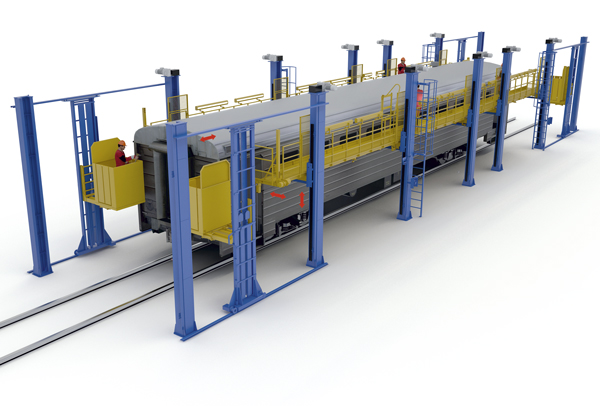 Platforms control system ensures safe operation and prevents the platforms elevation if the doors are opened and stairs from platform to the roof are lowered.
The platforms have sound and light signaling (for platforms lift and lowering) and safety alarm (signaling that the platforms are up and operation is in process) preventing the operator from injury when the platform goes back to home position. The alarm stop buttons are installed on lifting columns and on the platforms.
Control panel located on the column has a special access through a labeled key and allows to elevate and lower the platforms directly from the floor in case of emergencies.
Platforms elevating and lowering drive has a tracking system and ensures the synchronous and smooth motion.
Platforms design prevents the accidents by eliminating the possibility of foreign objects ingress between front or side platforms.
The platforms are quipped with stationary ladders, which allow the operator to leave the platform in any position in case of emergency or necessity of service personnel to come up to the platform, which makes maintenance flexible and comfortable.
The platforms are equipped with special lamps providing the working area lighting minimum 500 lux. Besides, there are pneumatic sockets on the platforms for fast connection of manual pneumatic tools.
For railroad car front walls processing between operative positions (access platforms) there are front lifts (platforms). The lift is rated for one operator. It moves vertically on the columns and extends along the railroad car front wall. The other lift extends from the opposite side of the railroad car, so the minimal distance between lifts is 400mm. The lift is equipped with control panel through which operator controls its spatial motion and lamps providing min. 500 lux lighting of working place. When operation is over operator removes the lift from the car and lowers it.
Technical specification (basic model).
1.

Platforms floor elevating height, mm

min. 2300

2.

Side platform dimensions (length х width),mm

12000 х 800

3.

Front lift dimensions (length х width), mm

1100 х 1100

4.

Overall dimensions of the car body, mm

length along the front walls

25124

width

3128

height above the rail head

4500

5.

Distance between elevated access platforms and car body side wall, mm

100

6.

Elevated access platform

Load capacity, kg

500

Elevating speed, m/min

5,6

Elevating height, mm

2300

Elevating drive

electromechanical, chain

7.

Lift

Load capacity max, kilo

150

Horizontal longitudinal travel of the cage, mm

800

Horizontal cross travel of the cage, mm

1450

Elevating height of the cage, mm

2300

Compressed air pressure, MPa

0,6-0,8

Horizontal travel mechanism

pneumatic

Vertical travel mechanism

pneumatic

8.

Operative area lighting, lux

500

9.

Installed capacity, KW

25

10.

Weight, kg

12550
Elevating access platforms are designed and manufactured individually for each customer, his product range and working conditions.