Automated storage systems
Automated storage systems for metal roll is an up-to-date solution for keeping of a wide range of metal roll products, their control and identification.
Storage of metal roll in machine-building enterprises takes up to 80% of storage space. In addition to this a considerable part of this production is used not for the storage itself but for the arrangement of service passages and walkways. Besides, transporting of stored materials requires application of expensive specialized equipment or additional hoisting equipment which, in the first place, leads to considerable time expenditures when delivering metal roll to process areas for the subsequent work with it.
The logic of automated storage systems application is based on storage of metal roll in special trays which are automatically placed into the storage cells after loading.
Thus a completely new level of storage culture is reached with a whole range of opportunities:
- To perform stocktaking of remaining materials with detection of its precise location ( a storage cell);
- To control taking on charge / discarding procedures using the automated storage controller data;
- To draw up the required report documents;
- To provide the differentiation of users' access rights to the data, using the authentication mode.
- To create sizable stocks of raw materials for production in the immediate proximity to the processing equipment and machines.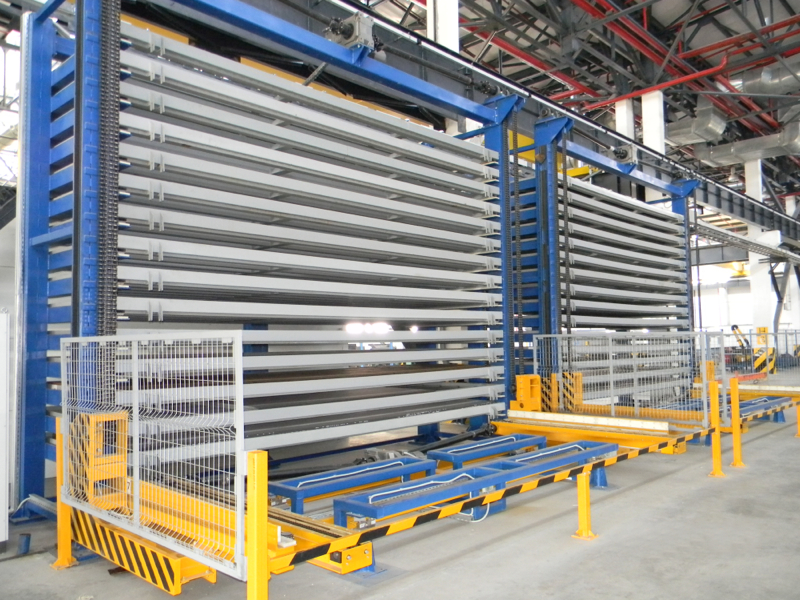 The storage facility for sheet metal roll represented on the photo (basic model) with overall dimensions 6780х5200х5925 mm (L/W/H) allows to store sheet metal roll with max. dimensions 6780х5200х5925 mm (L/W/H) and with the weight up to 5200 kg in each tray. The storage facility makes up 15 trays of this type, so the total capacity of this storage makes up 75 t.
Automated storage facility for keeping of section material has overall dimensions 13120х3515х5870 mm (L/W/H). It numbers 18 trays with dimensions 12450х600х240 mm. The capacity of the whole storage facility makes up 54 t, each single tray – 3000 kg.
Automated storage facilities provides for a number of safety measures which do not allow the operator to overload the tray – in order to control filling level of the tray, weight sensors and filling level sensors are installed.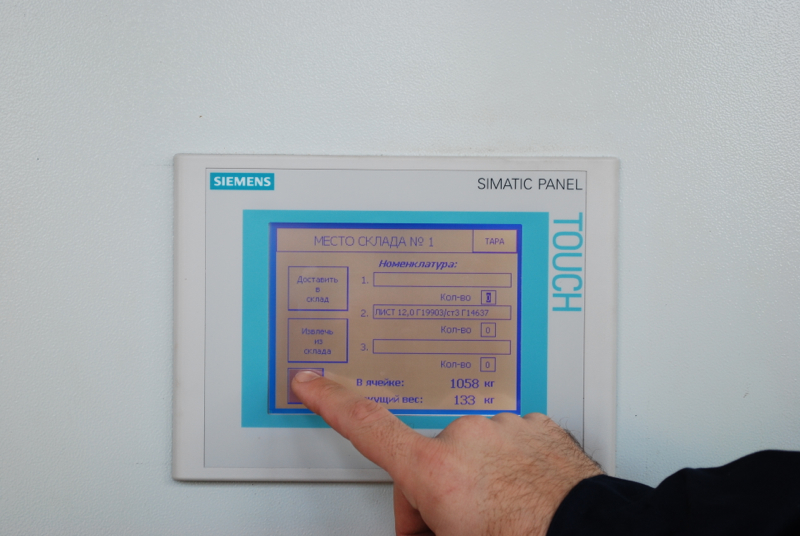 Control over the storage facility is performed from the remote control console equipped with a sensor panel with intuitively understandable interface. If the Storage facility is located outside the shop (on the open storage territory), the storage facility is equipped with a operator's cabin to protect him from bad weather.
The storage control system had a simple and friendly interface and allows any worker to cope with a storage control after a short instruction.
Application of automated storage facilities of sheet metal roll and section materials allows to maximally complete involve available storage areas on any production. Besides, Techvagonmash has initially put the principles of versatility and multipurposeness to the storage facilities architecture, which allows to create automated storage facilities on the basis of ready solutions with a wide range of parameters to meet the customer's needs.
For example, the following versions of the storage facilities is possible:
- With a two-way loading,
- With possibility of unit loads storing;
- Integrated into the general complex with plasma (or laser) cutting machine.